FREITAG repairs Care Point
*English below*
Onze FREITAG Store in Rotterdam is het Care Point voor FREITAG in Nederland. Dat betekent, dat u uw tassen die gerepareerd dienen te worden, bij ons in de winkel in Rotterdam mag inleveren en wij regelen de verzending naar Zürich. Het duurt minstens 8 weken tot uw tas weer terug in Rotterdam is. Maar geen nood, voor de tussentijd hebben wij leentassen van FREITAG beschikbaar die u gratis mag meenemen tot uw tas weer terug is.

Als u niet zelf kunt langs brengen en/of ophalen in Rotterdam, kunt u uw tas naar ons opsturen. Na reparatie kunnen we de tas ook weer naar u terugsturen. Deze extra verzendkosten zijn voor uw rekening (7,50 per pakket met PostNL). Ons adres vindt u onderaan deze pagina.
Alles kan gerepareerd worden: ritsen kunnen worden vervangen, klittenband, clips, rubber randjes, en andere onderdelen. Ook kan het zeil zelf worden gerepareerd. De slijtplekken worden dan opgevuld met hetzelfde materiaal in dezelfde kleur van uw tas. Alleen, helaas, bij zilver en bij zeilen met een digitale print kan dit niet, omdat dat volgens FREITAG niet mooi wordt. Belt u ons gerust als u zich afvraagt wat dit betekent voor uw tas.

Als u nog garantie heeft (als de tas minder dan 2 jaar oud is, u moet dan wel de bon of een bankafschrift kunnen tonen) betaalt u niets. Ook de verzendkosten, op en neer naar Zürich, Zwitserland, worden vergoed.

Als de tas ouder dan 2 jaar is en u dus geen garantie meer heeft, betaalt u wel een deel van de reparatiekosten. Zo lang u uw tas nog wilt blijven gebruiken gaat FREITAG ermee aan de slag om hem 'in leven te houden'. In sommige gevallen als een tas te erg versleten is, is reparatie niet meer mogelijk. U kunt ons bellen of mailen voor advies.

Voor een rits of ander onderdeel dat gerepareerd of vervangen moet worden, komt het totaalbedrag zonder garantie op 50 euro inclusief verzendkosten naar Zürich en terug. Als u uw tas een hele make-over wil geven, dus ook het zeil wilt laten opknappen, betaalt u zonder garantie 85 euro inclusief de verzendkosten naar Zürich en terug naar Rotterdam.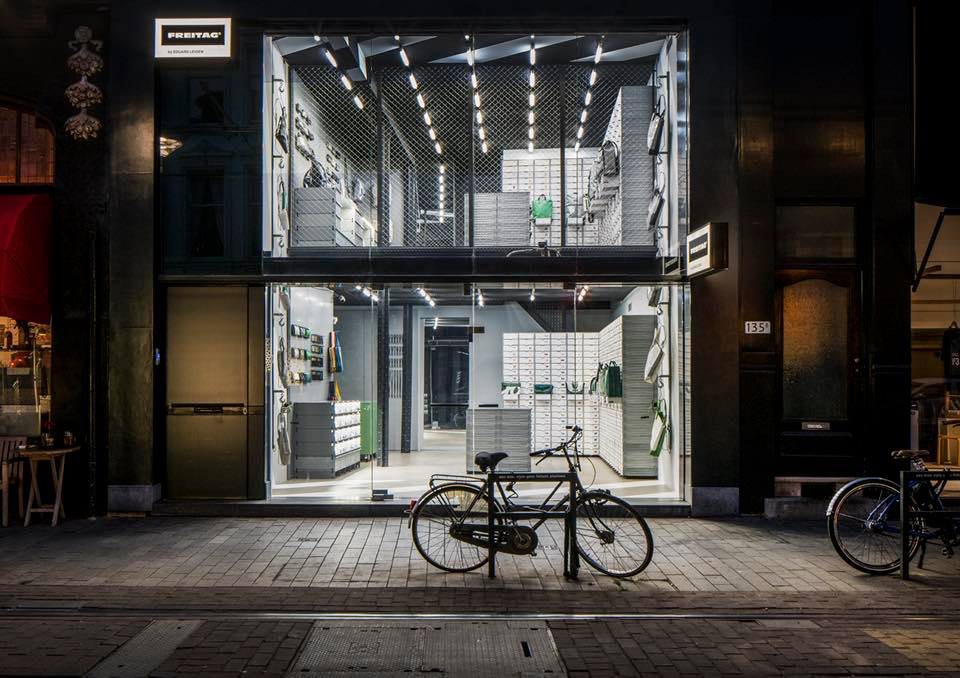 *ENGLISH*
Our FREITAG Store in Rotterdam is the Care Point for FREITAG in the Netherlands. This means that you can return your bags that need to be repaired to us at the store in Rotterdam and we will arrange the shipment to Zurich. It takes at least 8 weeks until your bag is back in Rotterdam. But don't worry, for the meantime we have loan bags from FREITAG available that you can take with you for free until your bag is back.
If you cannot bring and/or pick up in Rotterdam yourself, you can send your bag to us. After repair, we can also return the bag to you. These extra shipping costs are for your account (7,50 per package with PostNL within the Netherlands). You can find our address at the bottom of this page.
Everything can be repaired: zippers can be replaced, velcro, clips, rubber edges, and other parts. The tarp itself can also be repaired. The scuffs are then filled with the same material in the same colour as your bag. Only, unfortunately, this is not possible with silver and tarps with a digital print, because according to FREITAG it will not look good. Please call us if you are wondering what this means for your bag.
If your bag is still under warranty (if the bag is less than 2 years old, you must be able to show the receipt or a bank statement) you will not pay anything. Shipping costs to and from Zurich, Switzerland, are also reimbursed. If the bag is older than 2 years and you no longer have a warranty, you will pay part of the repair costs. As long as you want to continue to use your bag, FREITAG will work on it to 'keep it alive'. In some cases if a bag is too worn out, repair is no longer possible. You can call or email us for advice.
For a zipper or other part that needs to be repaired or replaced, the total amount without warranty will be 50 euros including shipping to Zurich and back. If you want to give your bag a complete make-over, so also have the tarp refurbished, you pay 85 euros without warranty including the shipping costs to Zurich and back to Rotterdam.